Contact Us
Prospective Camp Families
See all the photos
from CK-M 2015!

COME OUT TO CAMP FOR A TOUR. We would love to give you a tour of camp! Please call 203-743-6395 to schedule a private tour time for your family.


You can also take an online tour of camp!

Questions? Call 888-621-2267 or email to CKMinisink@campuskids.com . Be sure to request our enrollment form with "early bird" tuition savings.
Campus Kids-Minisink is a "weekday sleep-away camp" in a woodlands setting rather than the campus setting of the New Jersey camp.
Located on 600 wooded acres on the NY-PA-NJ border (just north of Port Jervis, NY), Campus Kids-Minisink serves campers from New York, New Jersey and Connecticut.
Campers and staff live in cabin villages. Activities include fine and performing arts, team and individual sports, hiking, nature, swimming, boating and sailing, adventure ropes courses, campfires, evening activities, and much more.
Every camper chooses his/her own activities every day!

What about younger children going to sleep-away camp? Is my child ready?




Is my child too old to start sleep away camp?

Monday - Friday sleep-away is a perfect compromise for us. I'm not ready to be away from my girls for the whole summer.
(parent of 10 and 12-year-old girls)

Minisink is a great break from the city for my kids. The fresh air, lake swimming...you can't beat that.
(parent of 13-year-old boy and 10-year-old girl)

Click here to read more feedback from parents.

WHAT DO CAMPERS LIKE MOST ABOUT CAMPUS KIDS MINISINK?




Trying new activities like

. . .

the ropes course,



shooting an arrow for the first time,

Music?




improving your swing?
Whatever it is, the staff works with each camper to achieve success.
Become a fan! Search for "Campus Kids Minisink" on Facebook. Join the fun. Invite your friends!

Questions or suggestions? Write to Jani. Or call 203-743-6395.



Campus Kids-Minisink
weekday sleep-away
camp located on 600 wooded acres on the NY-PA-NJ border, north of Port Jervis, NY.


Tour Info:
Call 203-743-6395
or

email

for your appointment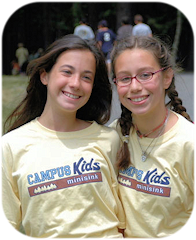 Related Information

ONLINE
Enrollment Form
Campers can
call home!
View or Print
the Campus Kids Brochure
Our 2015 Photo Gallery: See all the Fun!
Watch the Video