TAKE A TOUR OF CAMPUS KIDS.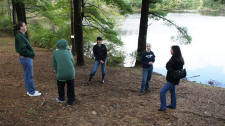 We invite your family to visit one of our Campus Kids sites: New Jersey or New York.

During the fall, winter and spring we give tours on many Saturdays and Sundays (see below). Each tour is just for your family and is arranged by appointment. You can bring any family members or friends with you to the tour. We allow an hour to show your family around camp, describe our program and facilities and answer all of your questions. Your tour guide will be one of the directors.
During the summer, while camp is in session, we give tours on selected weekdays.
New Jersey Camp:
at Blair Academy, Blairstown
Minisink (NY) Camp:
near Port Jervis, NY (on the NY-NJ border)
Call or
write
for your appointment.