Ryan joined the camper team, and they played all the Clash City Rockers Counselors. With the exception of the 3-1 initial score, lead by the counselors, the score difference was never more than one point.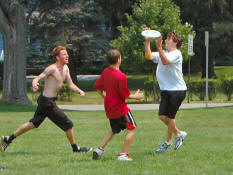 This picture is, unfortunately, the last one that my camera would take before the ominous battery sign began blinking empty. With a score of 6-6 in a game to seven, Frank dropped the Frisbee in the end zone. But after a counselor turnover, his mistake was vindicated when he scored the winning touchdown.
I'll do my best to describe the scene that followed. After a spike of the Frisbee, the entire team surrounded Frank, giving hugs and jumping as the excitement and shock of beating the counselors in a Frisbee match, something few believed would happen, set in. In the spirit of sportsmanship, campers lined up, and counselors did the same.
Campers: 7, Counselors: 6