Older Campers & Younger Staff Members at Campus Kids-NJ
HOW OLD ARE THE OLDEST CAMPERS?
The oldest campers at Campus Kids-NJ are entering 10th grade (usually 15 years old).
---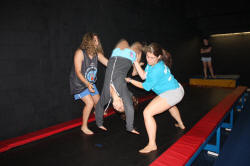 HOW OLD DO COUNSELORS HAVE TO BE?
Counselors must be at least 18 years old and have completed a year of college (or other post-high school experience). They also must be available for the entire summer camp season, which includes a week of staff orientation before the campers arrive. There is no option to miss part of the staff orientation week. There also is no option to miss work during the summer camp season for other activities, including college orientations. Dates for counselors in 2015 are June 21 - August 15.

We welcome applications from our former campers. However, their first year as a counselor should be a year after high school graduation. Counselor job information and application materials are at the "staff information" section of our website. Counselor applications are accepted until all positions are filled, which is usually sometime in May. Feel free to contact us at any time regarding available positions.
---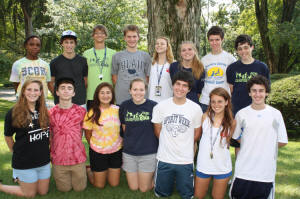 WHAT ARE STAFF ASSISTANTS AND HOW ARE THEY CHOSEN?
The position of "staff assistant" is a job at Campus Kids-NJ. It is open to boys and girls who have been campers at Campus Kids, who have completed the 10th grade and who, preferably, are 16 or older (exceptions are sometimes made for someone who is almost 16).
We have about 14 staff assistants to carry out a wide variety of essential tasks all around camp. Examples include helping out in the camp office, the health center or one of the activity areas, distributing sports equipment, handing out snacks, distributing and collecting program boards, printing and distributing daily programs, preparing for evening programs, recording canteen purchases, managing the lost and found, lifeguarding at the pool (for those who are certified lifeguards), picking up litter, changing water bottles, helping with program changeovers, taking photos for the website, posting photo galleries and essays on the website, writing and editing for the "Sundial" and much more. Few of these tasks are "glamorous", but all are essential to the successful operation of our camp. Staff assistants are not assistant counselors and do not have responsibilities for camper supervision or behavior. They are also not CIT's.
Because it is a job, interested persons must go through an application process that includes a written staff assistant application and an interview. References must also be obtained (forms are provided for this).
There are usually more applicants than available staff assistant positions, so not everyone who applies for this job is hired. Hiring decisions are based on particular staffing needs for the upcoming summer. We evaluate the skills of each applicant as objectively as we can. We do not give preference based on how many years someone attended camp or whether they were an 8-week camper or a 2-week camper, or even if someone "skipped" a year as a camper or not.
We are looking for individuals who have a positive attitude and are open-minded. They must be the type of people who get along with everyone and reach out to others to be friends. People who can only be friends with a select group of people should not apply. Applicants must be honest, reliable, hard-working and intelligent. Being a positive "team player" is extremely important, as is being an open, clear communicator. Staff assistants must be excellent role models for the campers. They must be able to follow all camp rules regarding safety and staff behavior. For some of the staff assistant positions earning your American Red Cross Lifeguard Training certification is required.
Staff assistants must be available to work at camp for the entire summer and must attend a one day orientation on a weekend in March. In 2015, staff assistants have a required training weekend on either March 7-8 or March 14-15 (applicants must keep both dates open until we let you know in late December which weekend will be be using for orientation). They will arrive at camp for the summer season on June 26 and leave for the summer on August 15. Staff assistants may not stay at camp on the weekends; we provide transportation for them on the regular camp buses.
If you are interested in applying for a staff assistant position for the 2015 camp season, click here for the complete information packet and application form for prospective staff assistants. Do not apply before September 15, 2014. Applications are due no later than November 1, 2014. All fully completed applications received by that date will be considered. At least three completed reference forms must be received before the interview. Hiring decisions are made after all interviews have been completed. Hiring decisions are made by December 15.
---
Feel free to call (973-845-9260) or email the camp office if you have any questions. Tom, Jeremy or Katie will be glad to speak with you.